Video: Man In Banting Hangs Dog From Tree, Insists That It Was Already Dying Anyway
Dogs are man's best friend, but clearly, men are not as kind to dogs as they are to us.
Having a dog as a pet is a responsibility and just like children, there is never a reason to abuse them.
One Malaysian man in Sungai Bidu, Banting, was caught on camera by rescuers after he had hung his dog from a tree by the side of a road, as showcased by the Malaysia Animal Association.
Lelaki gantung anjing miliknya di pokok mangga berdegil tidak mahu lepaskan tali gantung anjing dan mencabar supaya penyelamat laporkan kepada polis.Bantu Animal Malaysia jejak keberadaan penjenayah pengganas haiwan ini. Tawaran saguhati RM3,000.00 kepada sesiapa dapat jejak lelaki pengganas haiwan yang gantung anjing begini hingga laporan polis dibuat, pengganas haiwan didakwa dan disumbat ke penjara.Whatsapp Animal Malaysia +601120901097 untuk bekalkan maklumat lengkap. Kerahsiaan peribadi dijamin terpelihara.Lokasi kejadian : Sungai Bidu, Banting Selangor#dvs #perhilitan #pbt #animals #stray #wildlife #wild #wildanimals #dogs #cats #strayanimals #saveouranimals #cruelty #animalcruelty #saveourstray #feeder #animalfeeder #law #justice #voice #advocacy #animallaw #animaladvocacy #animalvoice #animaljustice #malaysiaanimals #animalmalaysia #malaysiaanimalassociation#aktakebajikanhaiwan2015 #aktapemuliharaanhidupanliar2010

Posted by Persatuan Haiwan Malaysia – Malaysia Animal Association on Wednesday, May 6, 2020
They wrote, "This man hung his pet dog from a mango tree, refused to set it free and even challenged the rescuers to call the police.
"Help us find this animal terrorist's location. A reward of RM3,000 will be handed to anyone who can help us locate him until a police report is made, and he is charged and placed in jail."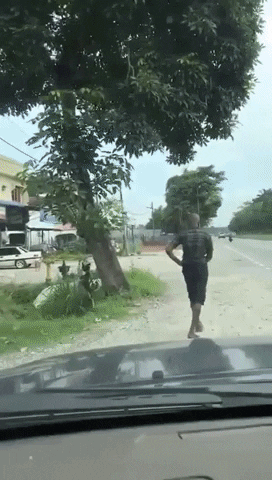 The man in the video apparently said that he had raised the dog and that it was already dying. He eventually cut the dog down from the tree thanks to the insistence of the rescuers, but continued to argue with them.
Anyone with complete information about the man can contact Malaysia Animal Association via WhatsApp at +601120901097. Your anonymity will be maintained.
What do you think about this? Let us know in the comment section. 
Also read: Video: Man Drags & Strangles OKU Puppy In Kelantan, Witness Begs Him To Stop