6 Amazing Times Wanna One's KL Concert Made Us Really Want Another One
Wanna One, one of the greatest k-pop boy groups in South Korea, had their very first concert in Malaysia at Axiata Arena, Bukit Jalil on Saturday night (July 21).
In case you didn't know, Wanna One is a k-pop boy group which was formed by the top 11 contestants from the second season of Produce 101, a survival reality show showcasing their talents. 
The group comprises of Kang Daniel, Park Ji-hoon, Lee Dae-hwi, Kim Jae-hwan, Ong Seong-wu, Park Woo-jin, Lai Kuan-lin, Yoon Ji-sung, Hwang Min-hyun, Bae Jin-young, and Ha Sung-woon. 
This wasn't the first time Wanna One visited Malaysia, as they had a meet and greet session with their fans earlier in January.
Wanna One's fans, also known as the Wannables, have been waiting so long for this concert, and WORLD OF BUZZ had the chance to be there to experience the awesomeness. Spoiler alert: The concert was simply EPIC!
Here are some of the best moments during the concert that made us wanna have another one!

Source: Star2
1. When Wanna One interacted with Wannables in Malay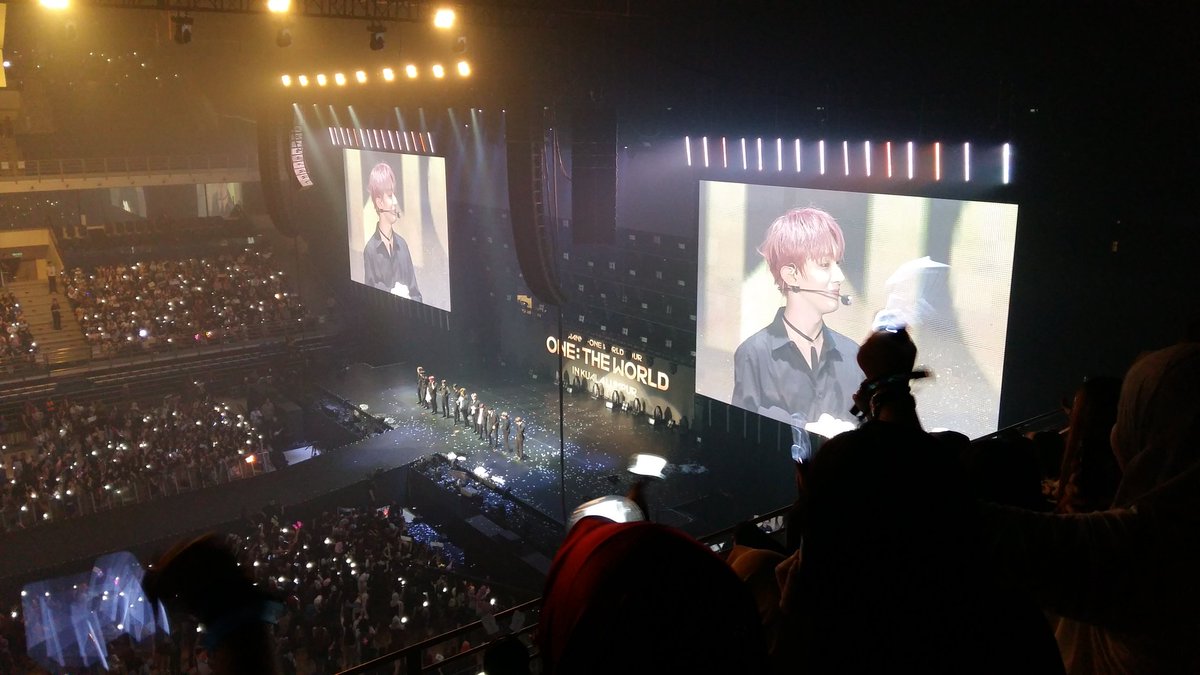 Source: Twitter 
This was honestly one of the cutest moments during the concert! Wanna One's hilarious attempt to communicate in Malay had Wannables in fits of laughter!
Having visited Malaysia twice, the members had no doubt picked up a few Malay words, and they were super eager to show off their skills to the fans.
Much to their fans' amusement, each member was asked to say the sentence "Awak boleh bertahan!" in different ways.
Jae-hwan, for instance, cutely said, "Awak boleh bertahan! Fighting!" 
Here's a compilation video of the members speaking Malay:
RT storyaboutagirl: Lets start ur morning with this! "Malaysia Wannable, cantiknya~ Awak boleh! Awak boleh! Awak boleh bertahan, FIGHTING!" Hahaha… Wanna One so cute~ ❤#WANNAONE #워너원#WANNAONEInKL #WANNAONEInMY #WANNAONEWorldTourInKL

— 민현. (@optimuahwang) July 25, 2018
When asked about Wanna One's impression of Malaysia, some of the members commented that nasi lemak and Twin Towers were the most iconic symbols of Malaysia.
2. When Wanna One was sweetly concerned about their fans

Source: YJ PARTNERS
We all know how concerts can be quite chaotic sometimes, especially when the venue is packed with thousands of people. There have been countless accidents that happened during concerts which resulted in casualties! 
During the self-introduction segment, the members kept reminding the fans to prioritise their safety.
Leader Ji-sung repeatedly reminded fans standing at the Rock Zone to be extra careful to not injure themselves. He is such a caring leader! 
3. When Wanna One wowed the crowd with their awesome talents
Honestly, it'd be a sin not to talk about Wanna One's performances! From singing to dancing to deejaying, they nailed every part of their performance! 
Wanna One performed over 20 tracks during the concert which include smash hits like "Burn It Up", "Never", "Energetic", "Always", "Light", "Twilight", "Beautiful", "Day By Day", "Boomerang", and "I Promise You".
All 11 members wowed the crowd with their powerful vocals and insanely synchronised dance moves. Wannables were utterly blown away by Wanna One's energetic and enthusiastic performances, and the arena was just filled with the fans' relentless screams and cheers.
Just when you thought the concert couldn't get any better, Wanna One surpassed themselves when they came up with a surprise party-themed skit with the charismatic leader Ji-sung taking over the stage as DJ Hankki, blasting upbeat music which instantaneously turned the entire concert into a party! Check out the video below:
180721 DJ #JISUNG with #JINYOUNG #DAEHWI #윤지성 #배진영 #이대휘 👍👍👍 #WANNAONEinKL #wannaoneinmy pic.twitter.com/HZvOCIQEgw

— ʚMOTMINɞ (@MOTMIN1831) July 21, 2018
4. When Wanna One and Wannables shared amazing moments singing along

Source: YJ PARTNERS
One of the best things about attending a concert is to experience the electric atmosphere of a live performance.
Wannables certainly played a huge part in keeping the arena alive and the boys energetically performing. They kept their spirits high throughout the concert, continuously cheering and hyping the boys. Wannables deserve to be awarded the best fandom in the world!
Fans were also singing along to the songs during the concert. One of the most beautiful sing-along moments was during the performance "Always", the entire arena turned into a huge choir with fans loudly singing along. The members later said that the sing-along session was absolutely touching, and praised their fans for singing well.
Seriously, the chemistry between Wanna One and Wannables is just undeniable! 
Check out the video below:
"ALWAYS" will always be my fav 💕 #WannaOneWorldTourinKL #WannaOneinKL #WANNAONE pic.twitter.com/gDhNl92YGA

— sparkle💫 (@sparklesyaa) July 22, 2018
5. When Wanna One made everyone teary with the emotional ending 

Source: YJ PARTNERS
Towards the end of the concert, Wanna One took the chance to express their gratitude to the fans for their continuous love and support. The members also said that they were really glad to meet Malaysia's Wannables again, and they promised to come back to Malaysia as soon as possible.
"Terima kasih!" Dae-hwi said.

Dae-hwi | Source: Instagram
Watch the video of Min-hyun saying, "Aku cinta padamu banyak-banyak!" here:
180721 Wanna One MinHyun ending talk

"Aku cinta padamu banyak banyak" Me too MinHyun!!!!!!!!❤️❤️❤️❤️❤️❤️#WannaOneinKL #WannaOne #Wannable #WANNAOneWorldTourinKL #워너원 #워너블 #HwangMinhyun #황민현 pic.twitter.com/0RYTGljKoo

— rennie97 (@Rennie14722804) July 23, 2018
When Wanna One performed their last song, "I Promise You", the entire venue was instantly transformed into a magical land as fans joined in while waving their glow sticks.
The concert ended with all 11 members, hands held together, bowing to the fans to thank them for the wonderful memories.

6. When Wannables gave heartwarming messages to Wanna One
Despite their immense popularity, in South Korea and around the world, the group, unfortunately, is expected to disband as their contract ends this December.
When asked about Wanna One's impending disbandment, Wannables said although they are sad that the 11 boys would be going their separate ways soon, they would continue to show their support and love for each member.
"My biggest wish is for Wanna One to hold concert as a group every year even after their disbandment," one said.

Source: WORLD OF BUZZ
Fans who have been following them since Produce 101, said that they are very happy to be able to witness Wanna One's incredible growth and achievements over the past one year. 
All in all, Wanna One's concert was a blast! It's not an understatement to say that these 11 talented boys are natural performers! We'll "Never" stop loving you, Wanna One!
We wish Wanna One all the best in their future endeavours and we hope to see them again in Malaysia!
Also read: Attending Concerts Can Extend Your Lifespan By Up to Nine Years, New Study Shows