8 Real Struggles M'sians Confirm Faced Before When It Comes to Their Data Plans
Signing up for a data plan has become a necessity for the majority of us. We need data for practically everything these days; social media apps, transportation (Uber/Grab), movie tickets, banking, sending messages, e-mails, and the list goes on. Evidently, having a 3G or 4G connection has definitely made life a whole lot more convenient for many of us.
However, with a great data plan comes great… struggles as well. Here are some you'll definitely relate to if you have a data plan:
1. When your data runs out before month end and you have to constantly ask for free WiFi
The struggle is real.
A lot of times when we finally do find free WiFi, the connection turns out to be unbearably slow. How to post photos of my food on Instagram now?!
2. When your data still works even after exceeding the limit but it's SO. AWFULLY. SLOW; you could die 
And then you regret replaying that video of that adorable doggo over and over again. 
Then again, slow internet is better than no internet, right? #beggarscantbechoosers
3. When it works at location A, but not location B (both of which are right next to each other)
Have you ever had to excuse yourself because you needed to walk out of the room or shop you were in because your messages weren't going out? And you weren't even in the basement. Sigh.
Sometimes it even works in your living room but not your bedroom, or in a shop at the mall but not at the food court. Sien ah.
4. When it says it's running on 4G but you still can't watch your YouTube videos without it stopping every few minutes
All these lies.
The loading circle appears so often it gives me anxiety. Can I just watch my favourite three-minute vlogs without it stopping every few seconds?!
5. That ongoing, never-ending battle you have with your friends about who has the best data plan or connection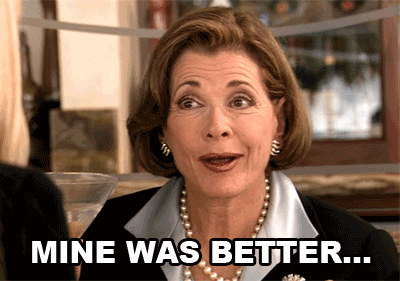 Whether it's brand X, Y or Z, we can never seem to agree on which is the better or best data plan. Why so kiasu? Got data plan good enough lah!
6. When you're given too much data for an app you don't use, and too little data for an app you open every 10 minutes
There are apps in our phones that we probably only open once a month, and some that we open every minute of every day, like WhatsApp or Instagram. Unfortunately, some data plans only give us a set amount of data for certain apps, and many times, this amount is not enough.
7. When it drains your battery life like nobody's business
Having a data plan is great but it drains our phone battery life like crazy, so much so that we can go from 100 to zero within half a day, if we're lucky. Sometimes it even dies within hours.
This is why we all need powerbanks…
8. When your data plan comes with "customer rewards" that aren't very rewarding
Most, if not all our data plans come with customer rewards but many times, these "rewards" don't seem all that rewarding. A lot of them often give us 20 or 30 per cent discounts at shops that are either too expensive or shops we don't frequent as often. I cry.
If you relate to this and you wish your data plan offered you better rewards, then you can always consider signing up for Celcom FIRST for its brand new and awesome Lifestyle Privileges!
Sign up for any Celcom FIRST plans for at least 12 months and you'll instantly be eligible for some awesome discounts and FREE goodies! And they're not the lame kind of goodies okay!
Some of these goodies include FREE:
Return flight tickets to ASEAN countries
GSC movie tickets
Grab rides
Tealive and 11Street vouchers
And much more!
Wah, so many atas freebies, sounds like a dream come true! 
It is! So, make sure you sign up NOW for any Celcom FIRST data plan for at least 12 months and get close to unlimited data quota, as well as unlimited iflix and Yonder Music, plus those attractive goodies! Brb, gonna sign up now. Find out more about Celcom FIRST and its Lifestyle Privileges here!