Adjusting the TV Antenna & 6 Other Struggles Every M'sian Growing Up in the Early 90s Will Remember!
If you were born in the 2000s, chances are you had the privilege of growing up with a world of entertainment at your fingertips. And we're not just talking about a super-fast internet connection, but even something as simple as 24-hour channels didn't use to exist way back in the 80s and early 90s. Serious okay, just ask your parents or one of your older friends!
From having to adjust the TV antenna to get a proper signal to checking newspapers to view TV program listings, here are some struggles we thank God we don't have to go through today.
1. Adjusting the TV antenna to get a proper signal
Yup, back then there were no smart TVs and 4K TV panels. Instead, TVs were bulky and came with antennas which you had to either move into different angles or if it was long enough, place at different positions in the house just to get a good signal!
And if you weren't able to find one, you were greeted with this…
2. And if that didn't work you resort to hitting it till you get a signal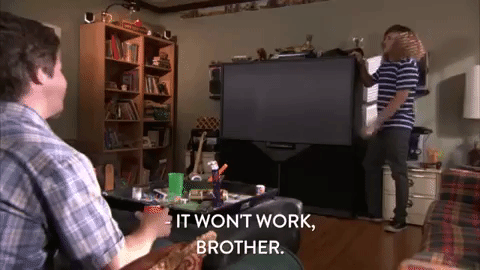 If you had an old school TV growing up you surely tried this at least once.
I don't know if this is a "Malaysian" thing or not but in those days most electronic appliances seemed to work fine after you gave them a few hits here and there.
3. Having to regularly check newspapers to view TV program listings
No, it wasn't as simple as checking it on your TV itself. Instead, TV program listings were only available in newspapers. This meant you regularly had to check newspapers in order to know when your favourite TV show would be playing. The struggle was real I tell you!
4. You couldn't stay up late watching TV all night
This was a nightmare for night owls! I mean you couldn't watch TV all night even if you were allowed to as channels ended their transmissions around 1am. If you grew up in the early 90s you'd probably know the frustration of seeing this come 1am:
5. Finding a blockbuster movie to watch was like finding a rare Pokemon
Yup, this was the case because there were no channels such as Warner TV back in the day. Instead, local channels only had a fewww movies every now and then that they constantly rotated.
BUTTT they did have some super iconic shows and sitcoms like Pi Mai Pi Mai Tang Tu, Mr. Bean, and Phuah Chu Kang! So there's not like there was so little entertainment that we can complain about that also, amirite? heh
I mean is there anything more nostalgic than hearing Phuah Chu Kang say, "PCK Pte. Ltd. best in Singapore and JB… and some say Batam!"? ?
6. Being a football fan of an EPL club was tough because not all matches were aired live 
Sports channels such as ESPN weren't available just yet and only some local channels aired a few popular matches live. Thus, most fans just had to settle with reading the results in the newspaper the following morning. Hard times indeed.
F.Y.I., the first subscription-based pay television was Mega TV which launched in 1995, bringing in channels and shows which were already popular in other countries during the time.
As great as this was, up till now Malaysians had to deal with the inconvenience of paying a monthly subscription. To make matters worse, we're sometimes tied down to paying for channels we don't even watch! 
Well, this is what makes a TV service-provider such as NJOI so unique as there is NO monthly subscription.
Every purchase comes with 49 free channels and optional prepaid channels, giving you greater flexibility as you only pay for what you need. More on NJOI below ;).  
7. The only cartoons we had were locally made ones 
Before Nickelodeon, Cartoon Network, and Disney channel made their way to Malaysia, the only types of cartoons Malaysians watched were the ones shown on our local TV channels. To be fair, they were actually good and super memorable that we still remember them till this day leh. 
If you grew up in the 90s, you'd surely remember iconic cartoons such as Mat the Kampung Boy, Usop Sontorian, Keluang Man, and Di Mana Joe Jambul. Feel old yet? 
However, much has changed since the early 90s as we now get to enjoy a wide variety of TV shows, movies, dramas, and even sports for a super affordable price.
From action-packed blockbusters and entertaining dramas, to insightful documentaries, you can watch it all when you purchase NJOI.
If you're looking for a new TV service provider, here's how you can enjoy more with NJOI:
NJOI is a prepaid satellite TV that features more value, more channels, and more flexibility.

Every subscription comes with 49 free channels. This includes a mixture of TV channels and radio stations.

You can even choose from a range of over 50 popular prepaid channels based on your consumption pattern (i.e. 3, 7, 30, or 90 days).

No internet is required.

You aren't tied down to a contract.
What makes NJOI unique is that there isn't a monthly subscription for you to worry about.
This means you only have to make a one-off payment which includes installation and you're set for life! Sounds like a good deal to us!
So, what are you waiting for? Purchase NJOI and start enjoying more lah! For more info, visit their website here. 
Do you relate to any of these struggles growing up? Let us know in the comments below!