An American Restaurant Invented 'Sushi Cereal' Complete With 'Milk' & We Don't Know What To Think
Food can always be interesting to experiment with, even if not all experiments wind up successful. From molecular gastronomy to fusion dishes, a chef who knows how to experiment can not only turn food into an art, but science as well.
But in a video that had surfaced over social media recently, we're unsure if the food experiment actually turned out the way the chef had intended it to. And we're not just talking about accidentally adding too much sugar or salt into a recipe here.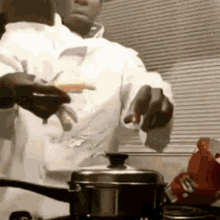 We're talking about sushi cereal, complete with 'milk'. Yes, we're not sure if we should be running for the bathroom, or scream in horror at the idea, but Floridian sushi restaurant Wave Mount Dora has made this unlikely and rather nightmarish combination come true.
So how do you make 'sushi cereal'? Well according to the video they uploaded on their Instagram, all you do is chop up a sushi roll filled with either imitation crab meat or salmon sashimi, place it all in a bowl, then drench it with 'milk'.
Okay, to their credit, 'milk' in this case refers to a supposedly savoury white sauce combined with eel sauce, but still.
The wild combination has since raised a lot of eyebrows among the Asian community, with many questioning the basis behind such a strange, otherworldly concoction.
So what do you guys think? Are you eager to give this a go, or is this a hard pass? 
Also read: Watch: M'sian Guy Tries Sushi For The First Time, But It Goes Terribly Wrong