Are You Getting What You've Paid For When You Upgrade Sizes At Starbucks? We Find Out!
Calling all Starbucks enthusiasts! This one is for you.
How do you know if you're getting what you paid for when you upgrade the size of your drink from Grande to Venti?
A video by Spanish marketing agency Mercadotecnia Total's Facebook page has been circulating online, where they conducted an experiment comparing the portion of liquids between a Grande cup and a Venti cup from Starbucks and the results may shock you.
In Mercadotecnia Total's experiment, the Grande cup (filled to the brim) managed to fill up the Venti cup to a good 95%. Upon a closer look, you can see how the Grande cup may be shorter, but it is wider compared to the Venti cup, which is taller but thinner. This may mean that the portion of drink you get could be the same regardless of cup size.
Marketing efectivo: Venti vs Grande @ Starbucks

Posted by Mercadotecnia Total on Sunday, August 11, 2019
But we figured that Spanish Starbucks outlets may very well be different from the ones in Malaysian Starbucks outlets.
So, we decided to carry out the experiment ourselves, to debunk the theory that Starbucks may not be giving you what you're paying for, in terms of portion.
The first experiment (just as shown by Mercadotecnia Total) showcases a Grande cup, which is filled to the brim, and the content is poured into a Venti cup to see how much it fills.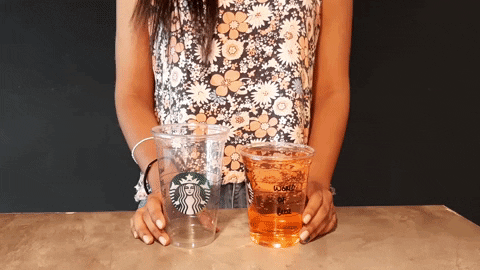 RESULTS: It's exactly what Mercadotecnia Total has shown us. A Grande cup filled to the brim can fill up almost 95% of the Venti cup, meaning you hardly get anything out of that size upgrade if we're going by the actual volume of the cups themselves.
But let's be honest with ourselves, Starbucks or any other food & beverage outlet would never fill a cup all the way up to the brim. Hence, we conducted the experiment again, this time filling up only about 95% of the Grande cup.
RESULTS: This time, you can actually see the difference in the portion of drink after the contents of the Grande cup was poured into the Venti cup, meaning that the extra RM1 to RM2 that goes into a size upgrade does give you a couple of extra gulps of caffeinated (or non-caffeinated, whatever floats your boat) goodness.
So there you have it, Starbucks Malaysia is definitely giving you what you're paying for if you're adding on RM1 to RM2 for those extra few sips. That said, the value of a Starbucks drink is entirely subjective to your tastes, so we'll let you decide.
Mercadotecnia Total's posting has since garnered over 56,000 shares.
RM3 coffee from the mamak could very well be the most 'worth it' buy out there. 
Also read: Guy Who Fell In Love With 7-Eleven Staff Orders Coffee from Her Every Day, Gets Diabetes Instead