Bitter & Heartbroken? Name A Cockroach After Your Ex And Watch It Get Eaten On Valentine's Day!
Valentine's Day is just a few days away. And while many are excited to spend the day with their significant others, not everyone is enthusiastic about the loved-up celebration because it reminds them of some relationships that didn't work out. But if you're still hung up over your ex this Valentine's Day, don't worry! This zoo's creative solution might just be what you need.
What better way to get over someone than to name the most disgusting creature on earth after them and watch it get eaten by another animal? That's right, you read that correctly. This Valentine's, the San Antonio Zoo is offering you a chance to name a cockroach after your former heartbreaker and feed it to an animal at their V-Day event, "Cry Me a Cockroach".
And before you ask, no you don't actually have to be in San Antonio or even the US to see your ex get the karma they deserve. You can apply for this hilarious way to mend your broken heart from wherever you are in the world! All you have to do is head to their website and pay a small fee of $5 (RM20) to take part in the event.
Following reports from CNN, the zoo plans to stream all the feedings on Facebook Live. And you won't just get the satisfaction of seeing your ex get helplessly crushed by another creature, you'll also receive a certificate to share your "accomplisment" with your friends on social media.
If you're feeling a little extra salty, you can even post it and tag the unlucky someone who decided to cross you.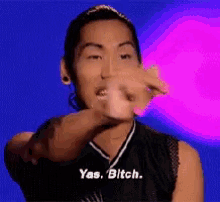 Alternatively, if your ex was particularly gross and you have a little extra cash to splurge, there's another category that allows you to name them after a rat so they can be fed to a reptile instead for $20 (RM83).
You have until 14th February at 5am (Malaysian time) to submit a name through the zoo's website but do keep in mind that only first names will be displayed during the event!
What a creative way to start moving on. Have you done anything out of the box to get over an ex? Would you guys name your ex after a cockroach? We want to know what you guys think in the comments below. 
Also read: Woman's Hand Bitten by Cockroach While Sleeping, Most Likely Caused by Personal Hygiene