Brace Yourselves! 11.11 is Coming and Malaysians Can Score Super Duper Cheap Appliances!
With our packed schedules and hundreds of things to juggle, we like things done quickly. Unfortunately, things like house chores take up the most time and energy. Of course, we can always get those electrical appliances to make our lives much easier but, mahal lah!
If you can 100% relate, we've got great news! 11 November is coming and some awesome, branded appliances are going on SALE!
Read on to find out how these appliances can make your life easier and how affordable they are!
1. The clothes steamer that can help you iron out all your crumpled laundry quickly and easily
We're talking about the Tefal Actis Steam Generator! Much lighter and compact compared to our traditional irons that are also giler heavy, this is definitely the appliance that can give us millennials a short cut to ironing our clothes.
It's equipped with an Easy Gliding ceramic soleplate for smooth ironing as well as an ultra high pressure steam generator to get rid of all them crumples!
It's insanely useful especially since we have a bad habit of not folding our clean laundry and leaving it in a giant pile.
Price: RM999 RM529 (save RM470)
2. The appliance for those who love fried food but are terrified of frying or simply too lazy to clean up after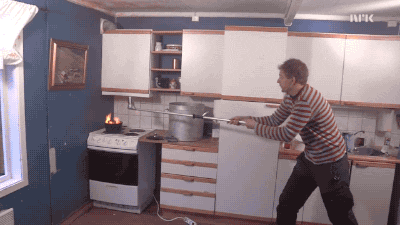 Frying anything at home is quite a task. You have to risk getting burned by the sizzling hot oil that flies all over, and then after that take time to wipe down everything around the stove. So crazy ma fan just for that one plate of fried chicken. Well, with the Tefal Fry Delight, you can say goodbye to those struggles!
Everything is done inside the machine AND, it not only fries, but bakes, grills, and roasts too! 4-in-1 wei!
Price: RM899 RM499 (save RM400) + FREE Piccolo Coffee Machine
3. Non-stick pots and pans for multitaskers who like to cook and prep a few dishes at once
Millennials love multitasking because it's how we get things done fast! Especially when it comes to cooking, it's always better if we can prep/cook everything at once, and one way to do that is by using multiple pots and pans to cook/boil/fry different foods, all at the same time. Unfortunately, good pots and pans don't come cheap, so make sure you don't miss out on your chance to get the Tefal Bistro 5-Piece Cookware set at an insanely affordable price!
They're also non-stick and made with innovative Thermospot technology!
Price: RM598 RM249 (save RM349)
4. The ultimate blender for those who love making smoothies or sambal belacan
Whether you want to blend a small or large amount, the Tefal Blendforce Blender comes with a 1.75L large jug, and a mini chopper accessory so you can make yourself more than one litre's worth of sambal belacan to last a few days, or a few glasses of fresh fruit smoothies.
It also comes with a wet and dry mill, so you can use it for whatever you want! Enjoy chunk-free smoothies today!
Price: RM149 RM99 (save RM50)
5. The induction hob for clumsy people (like me) who don't want to accidentally burn themselves on the stove
Some of the best parts about using an induction hob is that it's much safer, the heat is incredibly easy to control and plus, it's so easy to clean! So if you don't like to go through the hassle of cooking using a stove, or risk getting burned, make sure you get yourself the Tefal Induction Hob. With a high grade ceramic plate and digital LED display control, you can expect much more efficiency when you cook!
Price: RM289 RM199 (save RM90) + FREE Shabu Pot
And that's just the tip of the iceberg!
Countless other appliances by Tefal will be on sale this 11 November, but for ONE DAY ONLY!
From kitchen tools to rice cookers, there's something for everyone! And you'll be able to get it all during Lazada's 11.11 Mega Promotion!
WORLD OF BUZZ readers will also get an additional 30% discount with the discount code 'ORTEFAL30'!*
*With a minimum spend of RM150, and while stocks last.
Make sure to check out Lazada right now if you don't want to miss out on these awesome 11.11 promos! For more affordable appliances from Tefal, click here!