Cheras Apartment Guards Care For Kittens Until They're Adopted After Resident Abandons Them
It should be common knowledge by now, that having pets is a heavy responsibility considering they are living creatures. Yet, there are some Malaysians who still keep pets only to throw them away when things become overwhelming.
For instance, a cage full of kittens were left to the security guards of an apartment in Cheras after their owner couldn't care for them anymore.
Dinesh Dharma took to his Twitter page to showcase the five kittens and shared how the security guards of that apartment took it upon themselves to care for the poor kittens while they looked for forever homes.
Someone dropped off 5 baby boy kittens here at my place. They look a few weeks old and are all boys. If anyone would like to adopt them do let me know. For now, the guards at my apartment are looking after them. Hopefully we can find them a home soon! pic.twitter.com/6CRugFLTLn

— Dinesh Dharma (@iamdineshdharma) September 17, 2020
Dinesh told World of Buzz that the owner of the kittens was one of the residents of the apartment building.
"Their cat gave birth and they couldn't take care of them. So they left the kittens with the guards to ask if anyone wants them."
But shouldn't it be the owner's responsibility to find the kittens forever homes?
And that's not all. The security guards have not only been taking care of the abandoned kittens but they also found another kitten across the road from the apartment building and took it in as well.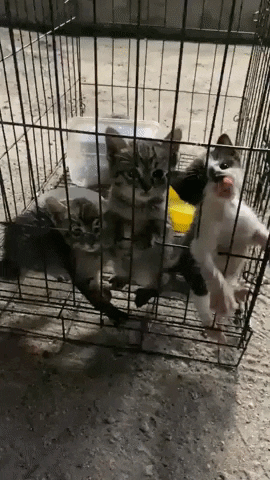 Thankfully, their efforts paid off as they managed to find adopters for all of the kittens!
By the virtue of Dinesh and the security guards, the poor kittens managed to avoid a life of hardships and find forever homes that will love them unconditionally.
We truly need more people like this in the world.
Kudos, to Dinesh and the security guards! 
Also read: Kind Pet Store Owner In Ampang Cages, Feeds & Cares For Street Cats While They Await Adoption