Get Yourself Back On Track This CMCO! 5 Tips To Make Better Choices For Your Wellbeing Before 2020 Ends
2020 is coming to a close much sooner than we expected and while we all had big plans for the new decade, it's likely that most of us never got to follow through with those plans. What with all the setbacks we faced this year, now is the perfect time to get ourselves back on track be it with our fitness goals, self-development, even financial goals!
With that said, we've listed down a few simple and easy ways to help you get yourself back on track before this year ends:
1. Setting boundaries for your WFH schedule 
Since the start of the pandemic, many companies have asked their employees to work from home. While there are benefits to working from home, it also gets increasingly difficult to set boundaries between 'work' and 'home' since employees are expected to be connected to their devices all day long.
We've listed down a few ways you can set boundaries for yourself while continuing to work from home:
Set a schedule for yourself and try to stick to it — for example, no working past 7pm
Set reminders and be sure to eat your meals on time; avoid missing meals due to overworking
Prioritise hourly breaks and make good use of them, try not to shortchange yourself while taking a well-deserved break!
2. Avoid going to 'tapao' food and cook wholesome meals
Not only does this burn a hole in your pocket, but you may also be unaware of the ingredients that go into your tapao-ed meal! One word: MSG.
Why not try stopping by the supermarket and cooking for yourself instead? What's more, if you prefer staying home and having your groceries delivered, online platforms such as Maybank's Sama-Sama Lokal has a variety of markets and sundry shops that can deliver goods directly to you! They also offer RM5 off delivery fees! The Sama-Sama Lokal platform allows you to support local businesses while doing your day to day groceries!
3. Reset your financial goals for the new year
Given our current economic climate, it's easy to feel stressed out when looking at your finances. However, it's important to remember that big goals start with small steps and as long as you're working towards something, you should be just fine.
When resetting your financial goals, try setting mini-goals first such as:
Increasing your contribution towards your retirement fund, we suggest taking out 13% of your income and putting it towards your EPF!
Increasing your earned income by taking on extra hours or learning a new skill that can eventually turn into a side hustle.
Reducing debt by paying off a little more than usual if you've got extra cash for the month or negotiate for a lower interest rate with your bank!
If you're wondering where to start, the new banking app MAE by Maybank2u has an awesome feature called Tabung that will prove very useful when trying to save money!
4. Always follow the 50/30/20 rule!
Ultimately, especially during times like now, it's crucial to save up to ensure you're financially secure and ready for the future. According to the 50/30/20 rule, you should put aside:
50% of your income for essentials like groceries and rent
30% for savings
20% for non-essentials like shopping and hobbies
The more you save, the better! As we mentioned before, you can try MAE by Maybank2u's Tabung feature! Tabung allows you to set mini-goals like saving for a smartphone or other things you might want. What's even better is that it also allows you to set up a group Tabung with friends to save for your adventures together.
The app also has a complementary feature called Boosters that will accelerate the saving process easily! The current Boosters that are available on the app are:
Spare Change which rounds up expenses and transfers the balance straight into your Tabung
Scan & Save which credits savings earned from promotions used during QR transactions
Guilty Pleasure which allows you to set a daily spending limit in any category of your choice and an amount to be credited into your Tabung if the limit is exceeded.
5. Keep track of your online purchases by using an app that tracks your expenses!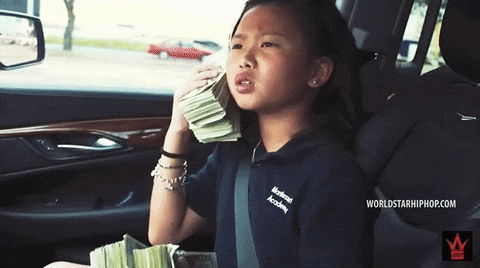 What else was there to do when you were stuck at home for months on end this year? Online shopping, lah! Nothing beats the excitement when the abang pos rings your doorbell!
But even with all the good deals going around, it's good to look at how much you've spent just on shopping online this year. It pays off to be aware of where exactly your money goes every month!
Back then, in order to keep track of our savings, we'd have to write all our expenses down which is quite leceh lah. Now, with the new MAE by Maybank2u banking app, we are blessed with advanced technology that allows us to keep track of our expenditures while simultaneously saving money for a rainy day.
MAE by Maybank2u has features that will definitely help with resetting your financial goals. It's a fully digital banking app complete with lifestyle features to complement Maybank2u's existing core features such as:
A new feature called EXPENSES: Provides a holistic view of everything you've spent on across all Maybank accounts and is even thoughtfully broken down into categories such as 'Shopping' and 'Food & Beverage'!
There's also a fun new feature called the MAKAN MANA WHEEL which helps to recommend dining options to users!
We've got even more exciting news for you below!
Apart from the amazing things we've mentioned, they're also rolling out the all new MAE card!
This card comes with a host of benefits and exclusive perks that you can enjoy locally or abroad such as:
Competitive foreign exchange rates so you never have to worry about being on the losing end!
Automatic currency conversion depending on wherever you are in the world for the money in your MAE wallet
What's more impressive is you don't even have to leave your house to apply and activate your new MAE card! You can sign up for one via the app and it will be delivered straight to your doorstep!
If you sign up for the all-new MAE card via the MAE app from 5th November to 20th December, you will get to enjoy RM8 cashback when you spend a minimum of RM30 in a single receipt during the campaign period.
You'll also stand a chance to win RM88 cashback when you sign up today!
We know what you're thinking… you already have the M2U app so why do you need an extra app!? Well, MAE by M2U can coexist with your current M2U app so if you want to elevate your personal finance experience with Maybank, we highly encourage you to download it today! To find out more about this app or to download it, visit the Google Playstore or iOS store today.