Johor Family Harassed By S'porean Loan Sharks Even Though They Did Not Borrow Any Money
With the ongoing Covid-19 season and the fact that businesses are closing down due to the lack of customers, Malaysians have more than enough to worry about.
Yet, for some innocent people, the troubles seem to be piling on in other dangerous ways.
As according to The Star, a debt-free family in Johor seems to have become the target of Singaporean loan sharks despite the fact that none of them have ever borrowed money from anyone.
Gabriel Tan, a 48-year-old manager of an education company, recently voiced out his concerns and frustrations in a press conference organised by the Pasir Gudang MCA after loan sharks had apparently splashed red paint on his house in Masai.
"The harassment became worse when they threw a Molotov cocktail, which damaged the front part of my house on Saturday. Luckily, none of us were injured," he said, as he lived at home with his brother and 74-year-old mother.
The loan sharks supposedly even sent him a video through WhatsApp of them throwing the explosive, in a short clip taken from a moving car and sent from a Singaporean number.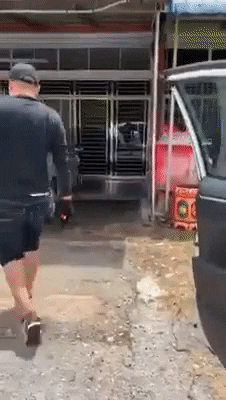 "They also sent me a video which showed my second house in Melaka, which I currently rent out to a family there. I really do not know how they got my number or my home address. My brother and I are worried about my mother's safety as she is usually at home alone due to our work commitments elsewhere," he added.
"She is badly affected by the incidents. Each time my mother hears a dog barking or a car passing by, she would become restless."
He also urged the loan sharks to leave his family be as they have never borrowed any money from them.
Gabriel and his brother have lodged three police reports so far and the Seri Alam OCPD Superintendent Ismail Dollah has confirmed that investigations are underway.
It's truly scary and unjust that these loan sharks can even target people who have never borrowed a single cent from them. We genuinely hope that the authorities find and bring these criminals into custody.
What do you think about this? Let us know in the comment section.
Also read: Loan Sharks Threaten To Turn Msian Lady Into Prostitute After They Sent Her Money She Didn't Apply For