Kelantan Man Cuts Off Snake's Head & Posts It Online, Netizens Divided Over His Actions
Considering we share our planet with all the other creatures in the world, it only makes sense that we'd eventually come face to face with each other when territories clash and other circumstances.
But there are multiple ways to handle such situations, and the reason why we choose these particular methods is to ensure both humans and animals remain unharmed while solving the problem at hand.
A good example would be how a man had handled the sighting of a snake by the side of the road in Kok Keli, Kelantan. Instead of leaving the snake be, the man had decided to get down from his motorbike and have his friend record him as he cut the snake's head off with a sickle machete, as shared to the Persatuan Haiwan Malaysia Facebook group.
Animals including snakes that could be venomous tend to come out and seek shelter during natural disasters such as floods, which Kelantan just experienced. Hence, it's only normal to see our little slithering friends out and about until the water completely subsides.
Taking drastic action like killing them should only be done when lives are at stake and for self-defense, such as when they enter your homes with children or other considerably helpless people around.
But this snake was just minding its own business in a puddle by the roadside next to dense bushes before the man in question showed up with a cameraman. After taunting the snake for a few seconds, the man then cuts the snake's head off with his sickle.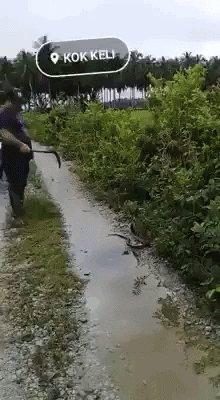 He even proudly showcased the severed head to the cameraman.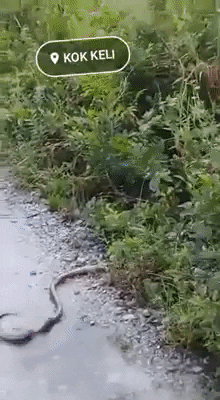 Many netizens have since spoken up regarding the incident, giving their opinions on the situation and the circumstances.
This comment wrote, "You want to be a hero with your sickle and a cameraman, which means you had planned to put this up on Facebook. Just mind your own business on your motorbike, who asked you to stop? That's a bushy area, not your garden. What goes around, comes around. Remember that."
This one goes, "The snake didn't pick a fight with you, it was just defending itself since you were a threat to it. That's also it's habitat, it's not like it was within your compound where you could chase it away."
This comment said, "The curse of a snake? Bullsh*t. Venomous animals can be killed, if it was a threat to the community. It's the monsoon season, many snakes will be looking for shelter in people's homes. Don't wait until it enters your house and you have to call the fire department. Don't wait until a family member dies from a bite and you have to be sad and regretful. So it's best to avoid it as early as possible. Kill or be killed."
Hence, what do you guys think?
Did the man have the right to kill the snake as defence for the possibility that the snake may bite and kill someone?
Or was what he did wrong as the snake was within its own habitat and that the man could have just minded his own business?
Let us know in the comments section!
Also read: M'sian Man Dumps Unwanted Kittens By Roadside, Attempts To Beat Adult Cat With Crate