Man Climbs & Sits At Hospital Window Every Day Until His Mother, A Covid-19 Patient, Dies
In the midst of this pandemic outbreak, families are separated when a member gets infected with Covid-19. Visitation is not allowed and patients have to be isolated for weeks to months on end until they recover.
But this wasn't going to stop a man whose mother was admitted to the hospital due to Covid-19.
In a report by Astro Awani, a 30-year-old man climbed the window of a hospital every day to ensure that his mother, who was infected by Covid-19, was getting the best care and attention possible.
Photos and videos of him sitting by the hospital window has since gone viral, touching the hearts of many netizens.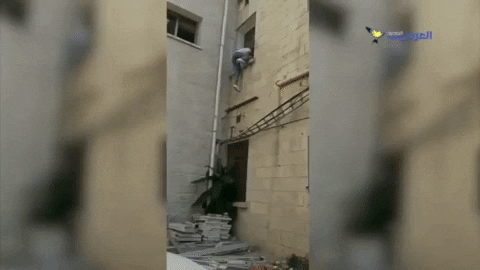 Jihad Al-Suwaiti from Hebron, Palestine was reported to be sitting on the window every day hours upon hours, until his mother, Rasma Salama, breathed her last breath on 16 July.
"He climbed the pipeline so that he could monitor his mother who was on the second floor of the hospital," a hospital official said,
"He spent most of his day there, observing his mother's condition from outside the window before coming down when he was sure his mother was asleep."
Jihad's older brother, Rasmi, told the media that despite being banned from doing so by the hospital due to security reasons, Jihad remained stubborn and continued to climb the window every day.
"Jihad is the youngest child and is indeed close to his mother, especially after the death of our father 15 years ago," he said.
"Our mother had leukaemia and was diagnosed with Covid-19 a few weeks ago. When informed of our mother's death, Jihad was angry and disbelieving."
"But now he seems to be able to accept it."
Also read: Newborn Baby Found Alive After Being Thrown On Top Of A Roof In Perak