Man In Selayang Tries To Escape From Enhanced MCO, Fails After Falling Into Barb Wire Instead
There was recently a video where a man had escaped from behind one of Selayang's barb wired Enhanced Movement Control Order areas.
It seems like there are more trying to attempt escape as well. Thankfully, it looks like they failed this time.
The We are Malaysians Facebook page took to their account to showcase a video of one individual trying to climb over a barb wire fence surrounding a flat as it rains down heavily. Another man stood nearby, watching their surroundings. Luckily, the man's attempt to escape failed when he fell onto the barb wire.
We are Malaysians wrote, "Selayang. Trying to escape."
The man trying to escape can be seen trying to climb over a barb wire fence before falling into it.
His friend standing watch nearby then helps him up before they both disappear into the building.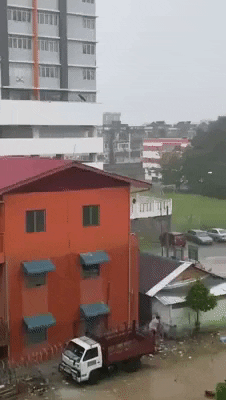 Its unsure as to why the man had attempted to escape but it's best if the authorities look into it as soon as possible.
We genuinely hope that everyone gives their full cooperate to our frontliners during this Covid-19 battle and that means staying at home and not trying to escape from enhanced MCO.
What do you think about this? Let us know in the comment section. 
Also read: JUST IN: Selayang Wholesale Market And Taman Seri Murni On Lockdown, Entrances Guarded With Barbed Wires