Meet Produce Pandas, The Chinese Boy Band Breaking I'ntl Beauty Standards With Their 'Chubbiness'
International beauty standards have caused a preference for tall, skinny, supermodel-like people when it comes to the formation of girl groups and boy bands.
Though this appeals to the masses who favour looking at pretty things, this makes it harder and harder for ordinary folks to relate to their favourite artistes and their music.
Which is why Produce Pandas was created, a Chinese boy band consisting of everyday-looking guys who enjoy singing and dancing, and want to spread body positivity!
Aged 22 to 31-years-old, Produce Pandas consists of Otter, Husky, DING, Cass and Mr 17, who were chosen out of the hundreds of candidates who applied, because they do not possess the physique that boy bands generally look for.
"This is a plus-sized, all-singing, all-dancing idol band, which has never been seen before in the whole world. We just look like a group of pandas, huggable, chubby shaped, relaxed and happy attitudes," shared Mr 17, as according to The Guardian.
Mr 17, who is the eldest member and main dancer of the group, explained that he had to risk being disowned after he had left his job in a petroleum refinery.
"My family knows I love dancing and singing but they doubt at my age, and with my overweight body shape, that I can ever succeed. I want to prove to my family that I can do it," he said, adding that social media hasn't been any less cruel.
"When we announced what we are trying to do, there were negative tweets. I can imagine that's similar to other larger-bodied men who attempt to do something outside of society's norms."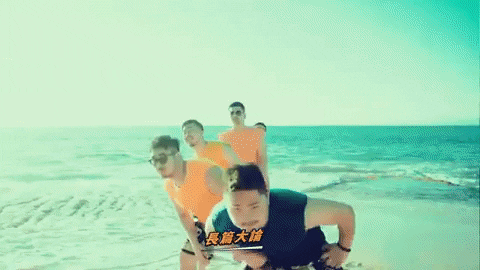 But the boys of Produce Pandas didn't let the bad comments get them down and just as hard as any Korean idol, as they too were subjected to K-Pop-styled training.
They have since released their ridiculously catchy debut single, 'La La La' in July 2020.
Considering how a Malaysian girl was cyberbullied to tears for her size and skin tone while doing a live makeup tutorial, it's about time we see more regular-looking folks like her and the guys from Produce Pandas on the big screen, doing their thing.
Let's come together to make sure that 2021 becomes the year that we finally normalise body inclusivity and positivity.
Kudos, Produce Pandas, you guys definitely have a fan in us.
What do you think about this? Let us know in the comment section.
Also read: "Just delete your account" M'sian Lady Gets Cyberbullied for Doing Makeup on Livestream