Miss Tamagotchis? This New App is Letting M'sians Raise Virtual Pets & Win Cash Prizes During Raya!
Most, if not all of us, would remember seeing or playing with a Tamagotchi at least once in our lives. Especially when we were kids. Those tiny handheld digital pets that could double as an adorable keychain, and they practically shaped our childhoods!
Unfortunately, Tamagotchis aren't as common anymore but if you're a fan, we've got great news for you!
There's a brand new Malaysian-born app known as MotomoPets by Agmo Studio that's giving you a chance to raise your very own virtual pet again!
And here's why you can NOT miss this one out!
Powered by Blockchain and Augmented Reality, this virtual pet app for both Android and iOS is the first of its kind, AND it's Raya themed. It's also incredibly kawaii desu! Admin would know… 'cause admin downloaded it already. 😛
Connect with friends and grow your pet together!
Just like Tamagotchis, you will need to "feed" your pet in order for it to grow. You do this by finding friends who have the MotomoPets app and then scanning their respective QR codes. The more QR codes you scan, the more your pet grows, and the more coins you will earn to buy clothes and accessories for your pet! Cuuute!
That means you'll actually have to connect with people around you in order to scan their QR codes! Sounds like a pretty genius way of getting people to interact with one another, especially during this festive season. (Y)
Besides growing your pet, you can also send out Augmented Reality greeting cards!
No really, this is SUPER cool! AR cards are things of the future, just check this out: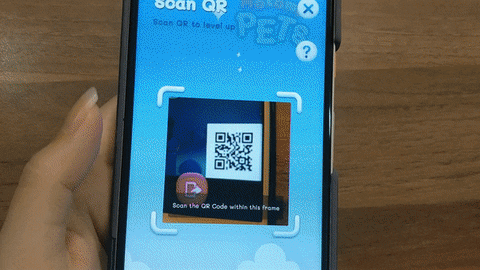 You can choose from different designs, and even type out a personalised message or record a customised video or voice message! Once you're done, you'll be given a QR code which you can send to friends to scan and reveal the amazing greeting.
There's RM1,000 in cash prizes for people to win!
In a nutshell, the more QR codes you scan, the faster you can reach the minimum requirement to join the contest and win cash prizes!
Once your pet is eligible for the contest, all you have to do is produce a creative video with your pet using the app. The most creative video wins! Hurry though! The contest is already running and it ends on 30 June 2019, so get scanning!
Here's what you'll win:
1x Grand Prize: RM500
10x Runner Up Prizes: RM50 each
Talk about an easy peasy way to get more Duit Raya! Find out more about the contest here!
Have we piqued your interest yet? If so, you can give the MotomoPets app a try by downloading it from the Google Playstore or iOS AppStore today! You can finally relive your Tamagotchi days and maybe even win some cash while you're at it!
Ultimately, this festive season, we at WORLD OF BUZZ want to wish you a Selamat Hari Raya and remember not to glue yourselves to your phones unless of course, you're trying to scan QR codes for your MotomoPet. 😉
Find out more about MotomoPets here!