Motorcyclist & Taxi Driver Arrested For Fighting At Damansara Traffic Light
It's no secret that Malaysians tend to get a little angry on the road, which is why it's almost normal to see people fighting over car and motorcycle accidents.
For instance, over the weekend, a taxi driver and a motorcyclist were seen fighting with a steering lock at a traffic light in Damansara.
According to Harian Metro, both the motorcyclist and the taxi driver have since been arrested.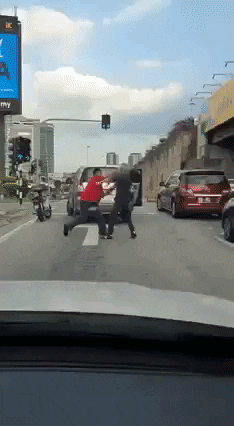 The incident allegedly started when the motorcyclist approached the taxi driver at the traffic light, and told him off for flanking him.
Angry for being told off, the taxi driver then got down from his car, with his steering lock to hit the motorcyclist, but the motorcyclist managed to pry away the steering lock from the taxi driver and used it to hit him back.
Thankfully, another motorcyclist stepped in to stop the fight, as cars stuck at the traffic light honked their horns so that they could move on.
Petaling Jaya District Police Chief Assistant Commissioner Nik Ezanee Mohd Faisal confirmed the arrests.
"Both individuals involved were detained for further investigation. The case is being investigated under Section 120/324 of the Penal Code," he shared.
What do you think about this? Let us know in the comment section.
Also read: Woman Injured After Her Car Overturns Following A Collision With A PDRM Vehicle