M'sian Delivery Riders Save Feisty Kitten From Drain, Spends Their Own Money To Send It To A Vet
Delivery riders are truly heroes considering they help front liners ensure that the rest of us stay at home instead of wondering out in our quest for food.
But that's not all they do. They help animals in need, too!
The Animal Association Malaysia Facebook page showcased a video of a couple of delivery riders trying to untangle a kitten that found itself tangled up in something in a storm drain. Considering how much it's been raining, we all know how dangerous a storm drain can be to a tiny little kitten.
They wrote, "Small salaries but big hearts. Frontliners who deliver food and groceries also deserve appreciation for helping a trapped kitten who couldn't move in a monsoon drain.
Even when chasing for time for minimum wage while risking their lives on the road, Animal Association Malaysia praises how caring and responsible young delivery riders and their friends are for willingly struggling to save the kitten and also sending it to the vet with their own collected money from delivering food."
In the video, the kitten seemed obviously scared as it was feisty, hissed and swatted at the riders as they tried to untangle it from whatever it was stuck on.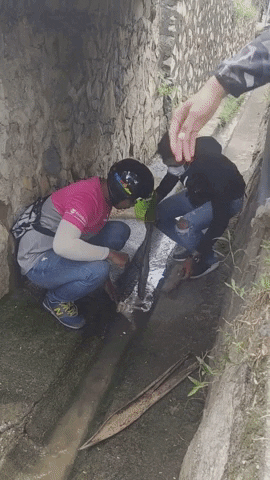 It's truly refreshing to see that these riders are not only willing to help save the kitten's life but also spend their own hard earned money to ensure the kitten is safely at the vet, especially considering they're living on minimum wages.
We can't say thank you enough to these riders not just for saving the kitten, but also teaching all of us an important lesson. Help others, however you can.
What do you think about this? Let us know in the comment section. 
Also read: M'sian Caught on Camera Kicking & Abusing Dog, Netizens Call For Justice To Be Served