M'sian Man Buys Umbrella During 11.11 Sale, Instantly Regrets When He Opens It
The 11.11 sales may be over but that only means that all the purchases made during the sale are slowly starting to arrive!
The one unfortunate thing about the sale is that the cheaper the item is, the worse the quality may be.
Take it from Philip Chin, who took to his Facebook page to showcase an umbrella he had bought during the 11.11 sales.
He wrote, "What I bought during 11.11."
The umbrella looks about the same as any other umbrella in the world, but the important thing about it that's different is that the canopy of the umbrella doesn't seem to be attached to its shaft.
In the video, Philip can be seen pressing the button to open the umbrella, upon which the canopy shoots off of the shaft and opens on the ground.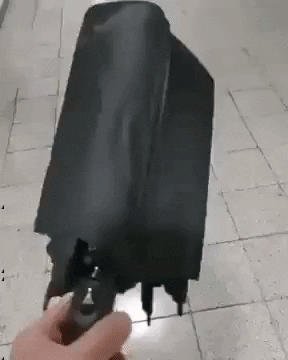 Well, at least he'll be able to use it as a prank on his friends or as self-defense, considering Malaysia isn't exactly a safe place to walk around?
We hope he gets a refund for this.
Philip's posting has since garnered over 12,000 shares.
Can you imagine Philip using that to stop a snatch thief?
Also read: Good-hearted Samaritan Shares an Umbrella With an OKU Man Braving the Rain