M'sian Security Guard Beats & Kicks OKU Salesman Because He's Not Allowed To Sell In The Building
It's truly inspiring to see people with disabilities who work for a living instead of begging, because it shows that they're willing to pull their weight despite their physical setbacks in order to survive.
Though, unfortunately, there are people in this world who think it's okay to bring these disabled people down. Why? Does it make them feel better about their own lives? We'll never know.
Theo.faris (@faris_theo) took to his Twitter page to showcase a video of a security guard physically assaulting a disabled man who entered a building to sell some food items. The incident apparently happened in Perlis.
This is so uncivilized, pakcik tu nk meniaga je, even though Tak boleh Kat tempat tu, xpayah la sampai nak pukul mcm tu. He didn't deserve to treated that way😢 pic.twitter.com/vrYIqnjq6v

— theo.faris (@faris_theo) February 22, 2020
Theo wrote, "This is so uncivilised, the uncle just wanted to sell some things, even though the place doesn't allow it, it's not necessary to beat him up like that. He didn't deserve to be treated that way."
What we're surprised with is the fact that if the building disallows vendors to sell items, the security guard could have nicely told the disabled man and sent him on his way, instead of slapping and kicking him like he did.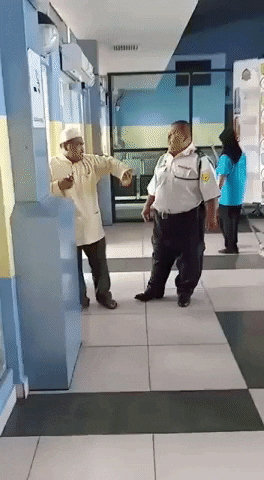 The poor, disabled man clearly looked scared as he was backed up against the wall, with his arms raised to protect himself from the security guard's demeaning blows.
He even looked back in fear at the guard as he walked over to pick up his basket, probably in an attempt to leave.
There was speculation online that the security guard had reacted to the man the way he did because there were rumours going around that the disabled man was filming lewd videos of people. Luckily, a netizen cleared the air.
The comment said, "For those who don't know this case, the guard decided to bully the disabled uncle because there were people saying he would sexually harass and take sexy videos of people. I've known this uncle for years and he normally sells things without bothering people, he uses a Nokia 3310 handset. His parents passed away, he's constantly faced with difficulty and he also has 3 other siblings who are disabled as well."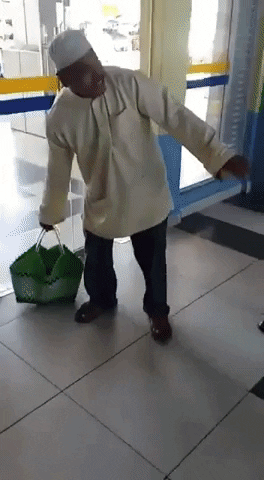 Hence, it's understandable if the guard wanted to be cautious, but he still didn't have the right to beat and kick the disabled man the way that he did.
The security guard has since shared an apology video.
We genuinely hope that the disabled man is okay and that his spirit is not broken by the guard's disrespectful act.
Theo's posting has since garnered over 17,000 retweets.
What do you think of this? Let us know in the comment section. 
Also read: Old M'sian Man Beaten To The Ground After He Tried Stopping Tow Truck Driver From Taking His Car