Mukbang YouTuber Ssoyoung Receives Publish Outrage For 'Inhumane Cooking' Of Live Seafood
Mukbang is traditionally known as an online audiovisual broadcast in which a host consumes food while interacting with the audience. Sometimes the host does not prepare the food themselves, though some choose to do so in order to make their videos a little bit more interesting.
But where do you draw the line between preparing live seafood for cooking and just plain animal abuse?
Mukbang YouTuber, Ssoyoung is currently in hot water because she has been accused to torturing live sea animals in her videos, as she openly battles with and inhumanely slaughters squids, octopuses and other sea creatures before preparing them for consumption, as showcased by another YouTuber, Tyler Rugge.
In his video titled 'Mukbang YouTuber Who Hurts & Kills Animals On Camera', Tyler points out that Ssoyoung tortures and kills animals on camera before she eats them, due to the nature of how she prepares and slaughters the sea animals.
"A lot of her videos, she eats seafood, she eats things like octopus, squid and different types of fish. But in a lot of the videos, she, in the beginning, shows the animal live. So, she'll have a bucket of octopuses and squids in front of her and she'll grab them and will be squeezing them on camera, and they'll be squirming around, obviously struggling," Tyler said in his video.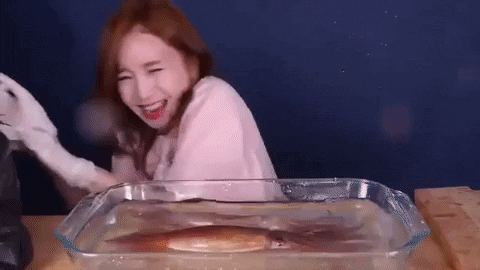 He also points out that when she cuts off the top half of the squids and pours soy sauce on the bottom half, the squids' brains are still in tact as their brains are located right behind their eyes. Hence, they're still very much alive and can still feel everything she is doing to them.
"So she basically cuts off the top part of the squid, it's called their mantle, if you didn't know a lot about squids you might think that it's their head, but it's not. It's brain is not up in there, so it's not like it's going to be instantly killed. So they're still alive after she cuts the mantle off. They are then set aside and she pours soy sauce directly on top of them on their open wounds and you can obviously see them struggling, freaked out, in pain," he adds.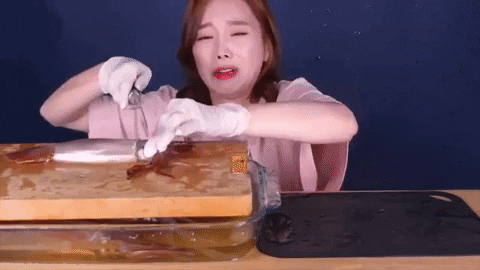 Tyler has since received backlash himself from Asians suggesting that his video is culturally insensitive as eating live seafood is a common practice in Asian countries but a larger majority of the Asian community also share Tyler's point of view while elaborating that live seafood dishes in Asia are normally prepared by Chefs who humanely kill the animals so that they feel no pain.
In fact, even other Korean and Asian YouTubers have pointed out in several videos that what Ssoyoung is doing is very wrong and should not be considered part of a culture.
Others pointed out just how unjust it is that Ssoyoung squirms and looks as though she is disgusted and struggling through the torture process yet it is the animals who are truly suffering.
As according to Business Insider, YouTube has since spoken out about their animal abuse policies and yet believes that SsoYoung's graphic and violent content does not violate any of their regulations.
"Our Trust and Safety team is located around the globe and we draw upon this regional expertise when drafting our policies. We have strict policies regarding animal abuse and have determined the videos highlighted do not violate them," said a YouTube spokesperson.
What do you think about this? Let us know in the comment section.
Also read: M'sian Lady Arrested For Racist Comments & Saying That PM Is Using MCO To 'Stay In Power'