MySejahtera App Crashes After 700K M'sians Download For RM50 E-Wallet Credit
In his press conference yesterday, Defence Minister, Datuk Seri Ismail Sabri Yaakob announced that RM50 will be credited to Malaysians' e-wallets once they download the MySejahtera app. This app is vital in curbing the pandemic as it alerts them of the latest information concerning those who are infected with the virus.
Malaysians in their head after the news.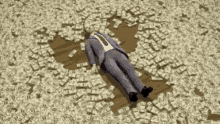 Well, they hoped but after receiving 700,000 downloads in just ONE minute, the app crashed! In his daily updates yesterday, Health DG informed the situation and advised netizens to give the app some time to avoid congestion.
"Maybe we will extend the registration period for one day or even a week so that everyone can register smoothly without any interruption."
He even humorously added that we should practice "virtual distancing" while we download the app.
Besides providing information, the app also allows users to perform self-assessments on themselves and their family members. If needed, the app will also be able to locate the nearest hospitals and clinics for Covid-19 screening and treatment.
Well, Malaysians are definitely enthusiastic about MySejahtera like never before. We hope the government does extend the grace period to ensure more Malaysians download the app successfully.
Also read: Have You Heard of This New Health App By Our Govt? Here's Everything You Need to Know