Singer Joins Competition To Pay For Mum's Diabetes Treatment, Told She Passed Away During Performance
Most of the time when people join TV shows and competitions, it's because they want a shot at achieving their dreams of stardom.
But once in a while, we see contestants who put themselves in the spotlight because they have alternative agendas that mean more than just the chance to have their 15 minutes of fame.
For one shining contestant of the Indonesian TV singing competition, Liga Dangdut Indonesia (LIDA), by the name of Jannah, she informed judges that she was there to win the show so that she could use the prize money to heal her mother's diabetes. After she was called on to proceed to the next round, the production decided to do something nice for her by calling her relative that was taking care of her mother, her uncle Pak Mus, live on the show to let him know the good news.
But unfortunately, the good news was outweighed by the news that the contestant's mother had just passed away of a heart attack.
Azim Kamaruzzaman (@RealAzimK) took to his Twitter to showcase videos of the tearful incident.
Anak berusia 14thn & lulus ke Pertandingan Liga Dangdut Indonesia 2020.. Saat beliau gembira & mau berkongsi cerita dengan keluarga, pakcik memberi khabar duka..

Ibunya meninggal dunia beberapa minit yang lalu.. Luluh hati ni!
1/2 pic.twitter.com/iSI4uwLrhN

— Nino Bonito (@azim_kzaman) January 21, 2020
He wrote, "Only 14-years-old and succeeded in going on to the next round of Liga Dangdut Indonesia 2020. At the moment that she was happy and wanted to share the good news with her family, her uncle gave her bad news. Her mother had passed away just a few minutes before. Heart broken."
In the video, Jannah can be heard asking her uncle if her mother was well and where she was, to which her uncle had to break the bad news to her.
He said, "Jannah, your mother said, be strong, for you will have to take care of your family now. We love her as a family but unfortunately Allah loved her more, he has called to her. Your mother has passed away."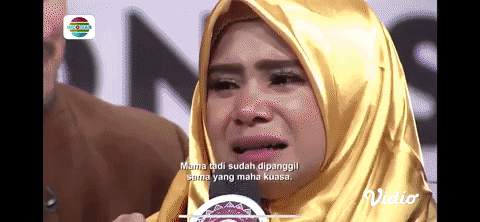 The terrible news caused not only Jannah to break down in tears, but also the judges who stood by her as she wept for her mother.
She had come so far on the TV show for her mother, who must be so proud of Jannah and her beautiful singing.
Such a bitter ending to what was supposed to be a happy occasion.
Our condolences to Jannah and her family, and we genuinely wish her the best. We hopes she wins the competition for her mother. 
Also read: Viral 7yo Iban Girl Sings Beautifully, But Netizens Attack Her For Not Knowing Bahasa Malaysia