S'porean Shares How Tempered Glass Door Shattered Into Pieces All Of A Sudden In Their Home
A Singaporean family encountered a horrifying experience in their home when their sliding glass door shattered into pieces all of a sudden.
Eldora Lie shared on her Facebook page the incident that happened on the last day of Chinese New Year (26 February) which was captured by their home CCTV.
The video shows Eldora's husband walking from the dining area into the kitchen just seconds before the sliding glass door shatters into pieces.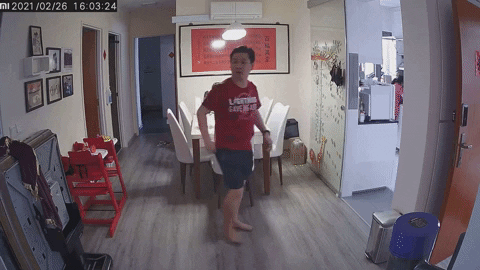 Eldora shared in her post that none of her kids or the adults at home were hurt in the incident.
In an interview, she said that the noise was very loud and sudden, and expressed her relief that her 15-month-old twin boys were not injured. She said that she was in the living room at that time and her sons were in their playpen.
She also added that she, her husband and helper sustained minor cuts at the bottom of their feet while trying to clean up the glass pieces.
Her husband, Sito Rong Feng, said that they had collected four buckets' worth of glass shards, "from huge pieces to powder form".
When Eldora asked her contractor why their tempered glass had shattered, she was told that tempered glass was not shatter-proof.
"He said that 'tempered glass means safety glass and it does not mean that it would not shatter, it will break into cubes compared to those sharp pointy glass'," Eldora wrote.
"Come on, it's still the same, in cubes also sharp what. We still hurt ourselves when we are trying to sweep clean the place," she said.
Eldora then urges the public to think "twice or thrice" if they think tempered glass is safe to use.
"Please create awareness that tempered glass ain't SAFE at all."
Here's the full video:
This is not the first case of tempered glass exploding into pieces. One woman suffered deep cuts in her foot after her tempered glass table shattered while she was having hotpot at home.
Also read: Woman Shares How Her Tempered Glass Table EXPLODED While Having Hotpot At Home