Video: 16yo Penang Delivery Rider Dies After A Tourist Bus Uncontrollably Rams Into Him In Horrific Crash
Truly horrific. 
刚刚遇到的在我们车后面飞下去,看到心好冷头痛。

Posted by Chunly Mei on Thursday, November 7, 2019
A 16-year-old delivery boy from Sungai Ara, Bayan Lepas, Penang tragically died when a tourist bus lost control and rammed straight into the rider on his motorbike. The poor boy's body was crushed on impact, and he was pronounced dead at the scene.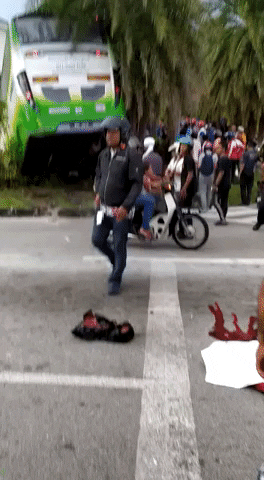 This loss comes as a heart-wrenching shock to the victim's family as the teenager, Muhammad Saifullah Muhammad Hafiz, was reportedly the oldest of his seven siblings and worked as a part-time rider as soon as he reached legal driving age to provide for his underprivileged family.
At around 6.30pm yesterday, a tourist bus travelling along Dato Ismail Hasyim Road rammed over the innocent youth and crashed into a parked vehicle on the roadside before crashing into another car driven by a woman and her two children.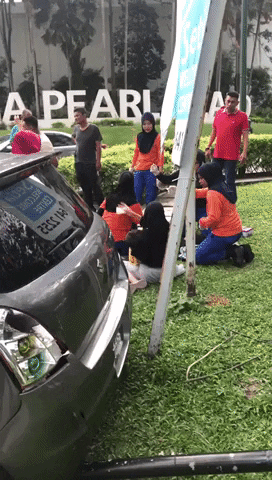 The bus only came to a halt when it smashed into a terrace house in a residential area in Bayan Lepas, according to Sinar Harian.
Fortunately, authorities were alerted and rushed to the scene and immediately. They sent the mother and her injured children to the hospital for medical treatment.
According to a source speaking to Guanghua Daily, it was reported that after the crash, the bus driver exited the vehicle, stripped off his clothes and screamed. Upon further investigation, it was discovered that the bus carried no passengers.
"Investigations revealed that the bus was having a brake problem and left the driver out of control."
Nonetheless, authorities are awaiting results of a urine test on the driver to identify whether he was under the influence of substances during the accident.
RIP, Hafiez. Hopefully, the victims of the crash that are still alive will recover soon. Be safe on the roads, guys! We can't emphasise this enough. 
Also read: Video: Bus Driver Uncle Dances & Plays Air Guitar While Steering Bus With Foot