Video: Man Drags & Strangles OKU Puppy In Kelantan, Witness Begs Him To Stop
If you are incapable of taking care of a pet, why get one in the first place?
Pet animals require love, patience and care. This is an example of someone who doesn't seem to care or have enough patience to own a pet dog.
The Malaysia Animal Association took to their Facebook page to showcase a man strangling and dragging around a puppy by a thin rope tied around its neck as the puppy struggles to keep up with the man. The incident is said to happen in Kelantan and the puppy seemed to have some problems with its hind legs.
Aksi seorang lelaki heret anak anjing dalam keadaan leher dijerut tidak boleh dimaafkan walau atas apa jua alasan.Perlakuan menyakitkan anak anjing menyebabkan cedera bawah badan dengan luka-luka kesan seretan di jalan tar. Maklumat diperolehi Animal Malaysia adalah anak anjing hanya dilepaskan pelaku setelah rayuan dan bayaran dibuat dengan alasan untuk beli anak anjing oleh seorang wanita yang menyaksikan kejadian tersebut.Kejadian siang tadi seperti sengaja mencabar undang-undang haiwan yang ada. Nampaknya Akta Kebajikan Haiwan 2015 yang berusia 5 tahun tidak mampu mengajar masyarakat supaya lebih berdisiplin dengan haiwan selagi mana akta ini tidak dipinda dan memasukkan hukuman sebatan kepada pelaku penzalim haiwan.Warga Kota Bharu Kelantan dan wanita yang membeli anak anjing yang menyaksikan aksi lelaki menyeret anak anjing berdekatan Stesyen Bas Bandar Kota Bharu diminta tampil buat aduan supaya pelaku ini dapat disiasat dan didakwa atas perlakuan zalimnya. Aduan boleh terus dibuat ke Jabatan Perkhidmatan Veterinar Negeri Kelantan atau salurkan ke Whassap Animal Malaysia di 01120901097 untuk bantuan laporan.Animal Malaysia menanti laporan saksi utama.#dvs #perhilitan #pbt #animals #stray #wildlife #wild #wildanimals #dogs #cats #strayanimals #saveouranimals #cruelty #animalcruelty #saveourstray #feeder #animalfeeder #law #justice #voice #advocacy #animallaw #animaladvocacy #animalvoice #animaljustice #malaysiaanimals #animalmalaysia #malaysiaanimalassociation#aktakebajikanhaiwan2015 #aktapemuliharaanhidupanliar2010

Posted by Persatuan Haiwan Malaysia – Malaysia Animal Association on Saturday, April 25, 2020
The Malaysia Animal Association wrote,
"The action of dragging the puppy by strangling it by its neck cannot be forgiven no matter the excuse. This hurtful act of dragging it across the tar road can cause injuries to its abdomen. The Malaysia Animal Association received word that the man only released the puppy after a female witness decided to beg and pay the man to buy the puppy from him."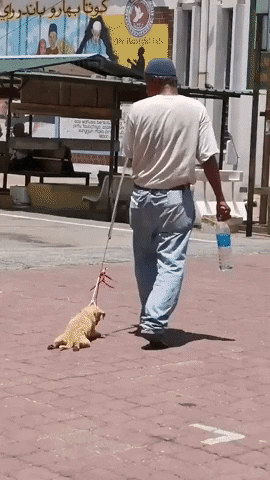 "This incident seems like a deliberate challenge to existing animal laws. Looks like the 5-year-old Animal Welfare Act 2015 has not taught people to be more disciplined with animals, as long as it remains not amended to impose penalties on animal abusers.
"Kota Bharu, Kelantan citizens and the woman who bought the puppy and witnessed the man's actions near the Kota Bahru city bus station have been requested to come forward to make a report, so that the perpetrator can be investigated and charged for his misconduct," they added.
Complaints can be made directly to the Kelantan State Veterinary Services Department or through the Malaysia Animal Association's WhatsApp line, +6011-20901097.
Don't let animal abuse go unpunished. Reporting a bad owner can potentially save an innocent, defenseless animal's life.
What do you think about this? Let us know in the comment section. 
Also read: Cruel M'sian Owner Leaves Poor Puppy Caged Inside A Car & Bomba Had To Be Called For Rescue