Video: PDRM Officer Repeatedly Kicks Suspect Who Tried To Runaway Near Jalan Ampang
Police brutality has become a serious issue today, especially after the murder of George Floyd in the United States. Not comparing to the magnitude of what happened to George Floyd, Malaysia has its cases of seemingly police brutality as well.
A video of a police officer kicking a man during an arrest on 1 June has gone viral and is currently being investigated, said Kuala Lumpur police chief Mazlan Lazim.
The video shows the officer clad in his uniform repeatedly kicking a man sitting on his motorcycle at the side of a road while another police officer loses his balance and tumbles to the ground.
As the first police officer continues to kick the man, the other officer puts up his hand, gesturing for him to stop.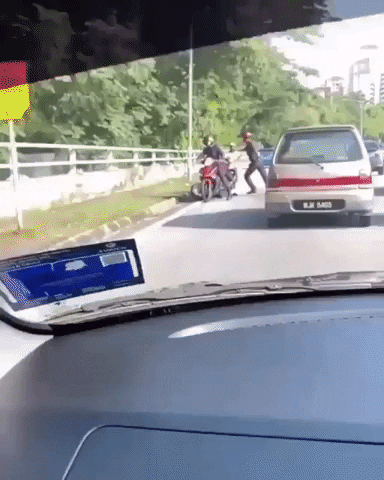 According to FMT, Mazlan said that policemen from the Wangsa Maju district police headquarters were making their rounds along Jalan Genting Klang in the afternoon, when they spotted two men on a motorcycle behaving suspiciously.
They had ordered the two men to stop, but the men refused to obey and fled towards Jalan Ampang with the police in pursuit. The men then rode against traffic but failed to control their motorcycle and crashed, with one of them escaping after jumping into a drain while the other was left on the side of the road.
The suspect – who was kicked by the officer – was arrested while investigations are being carried out on the police officer.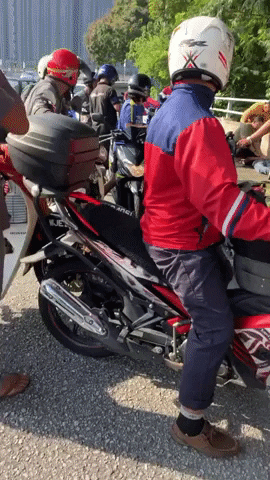 "Regarding the video of the arrest that is now viral on social media, an internal investigation is being carried out to ensure no standard operating procedures were broken during the arrest," Mazlan said.
"The police will not compromise and will take stern action against any officer or staff who goes against SOPs when carrying out their duty."
Meanwhile, the suspect tested positive for methamphetamine, had two criminal records linked to narcotics and was under investigation for a break-in in Ampang.
An investigation paper has been opened under Section 186 of the Penal Code for obstructing police from carrying out their duties, an offence that carries a jail term of up to two years or a fine of up to RM10,000 or both upon conviction.
The suspect is also being investigated under Section 15 (1) (a) of the Dangerous Drugs Act 1952, which provides for a fine not exceeding RM5,000 or a jail term not exceeding two years upon conviction.
Here's the video:
The police officer had the right to arrest the man, but does he have the right to kick him repeatedly?
Also read: PDRM Finds Drugs Among Underaged Kids Who Attended A Party in Penang; 20 People Detained