Video: Snatch Thief On Motorcycle In Shah Alam Grabs Woman's Necklace While She Crosses Road
Snatch thieves nowadays don't even need to plan ahead when they rob victims on the street. If they see an opportunity, they will grab it – literally.
The incident happened on 6 August in front of a clinic in Section 19, Shah Alam. From dashcam footage posted on Info Roadblock JPJ/POLIS, a woman is seen waiting for cars to pass by before crossing the road.
As she crosses halfway, a motorcycle approaches and she stops in the middle of the road to give way for the motorcycle to pass. However, without hesitating, he reaches out and snatches the woman's necklace before riding off.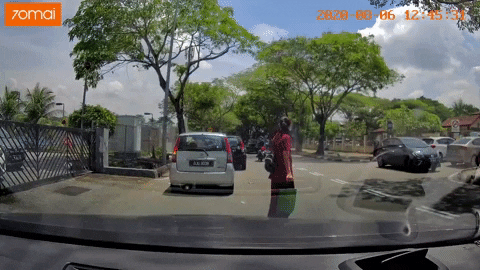 By the time the woman realises what had happened, it was too late to stop the snatch thief. She can be seen being a little disorientated and walks back to the side of the road.
Here's the full video:
Always be alert when you're in public and especially when you're crossing the road where snatch thieves on motorcycles can easily snatch your valuables. All it takes is one second! 
Also read: Watch: Motorcyclist Sees Woman On Kepong Street, Reverses & Snatches Her Necklace