Watch: Man Eats By The Side Of a Road in M'sia, Reminds Us To Appreciate What We Have
For those of us who stay alone or away from family, we have a tendency of eating in front of the TV or in front of our phone while it's playing a video. Other times, we prefer to eat out with friends so it's not so lonely.
Today, Twitter showed us that even though some times we may feel sad and lonely because we're eating alone, we should still appreciate what we have.
Butterfly (@HakimieNoor) took to her Twitter account to showcase a man who looked like he could be a construction worker eating alone by the side of the road. His pack of food was placed on the road as he sat by the curb to have his lunch.
ya allah. sumpah sedih tengok dia makan macam ni. tolong la hargai jasa org yang cari rezeki untuk kita. bukan senang nak senang . bukan susah nak susah. tak semua laki tak guna. pic.twitter.com/6PTl5a31UV

— 🦋 (@HakimieNoor) September 5, 2019
Butterfly wrote, "Ya Allah, I swear, it's sad to watch him eating like that. Please appreciate the service of those who create and build opportunities for us. Not all men are useless."
While we get to eat while sitting down at a table, with good company or with entertainment via our mobile devices, there are still people out there who don't have the luxury of a clean and proper dining arrangement.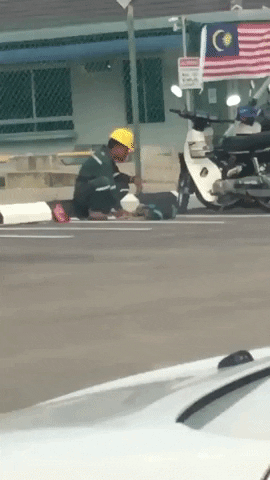 The man can be seen looking around as he's eating, while motorbikes can be heard passing by, which makes us hope that the dust from vehicles and the road are not bothering him.
Most of the time, these workers neglect their own health and wellness for they would rather save their money to care for their families and the people who are under their care, and so it's normal to see them eating food that is as cheap as possible.
You'd also see them eating as close to their work spots as possible as they don't have the same privileges, like being entitled to an hour's lunch break like we do. Most of the time, they eat where they work so that they can immediately get back to work to earn for their families.
Hence, we should truly appreciate the lives that we live and the small rights and entitlements that we have that make our lives better without us even knowing it.
Butterfly's posting has since garnered over 12,400 retweets.
If you see a worker eating by the roadside like this and if you have the time, maybe sit with him. Who knows how a good conversation and a small act of kindness could make his day. 
Also read: M'sian Man Abandoned at Hospital With Only RM2 After An Accident, Saved by Kind Mother-Son Duo