Watch: Motorcyclist In Bandar Bahau Narrowly Escapes Accident By Skidding 'Tokyo Drift' Style
A young motorcyclist was seen 'drifting' on the road as she tried to avoid crashing into a car that was making an illegal turn.
According to Info Roadblock JPJ/POLIS, the incident happened on 26 December in Bandar Bahau, Negeri Sembilan where a car is seen making an illegal u-turn in the middle of the road.
At this point of time, a yellow motorcycle approaches the intersection at high speed and almost crashes into the vehicle. But just in the nick of time, the motorcyclist immediately skids and manages to stop her bike.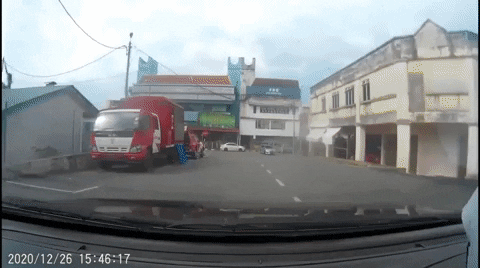 A closer look reveals that the rider is a young woman who has a child seated behind her, both without any helmets on.
Netizens commented that both the driver and the motorcyclist were in the wrong as the driver had made an illegal u-turn while the motorcyclist did not have any helmet on.
Luckily, what could have been a serious accident was avoided, but it still does not justify the traffic offences both the driver and motorcyclist had committed.
Here's the video:
What do you think about this? Let us know in the comments below!
Also read: Watch: Motorcyclist Thrown Off Bike After Car Cuts Into Middle Lane & Crashes Into It On KESAS Highway