Watch: Motorcyclist in Puchong Kicks Car For Blocking Him But Loses Balance & Falls Down
A motorcyclist in Puchong ended on the ground when he tried to kick a car that abruptly changed lanes and seemingly blocked his way.
The incident happened on 25th July at about 9.15am according to the timestamp on a dashcam footage that was posted on Facebook. The owner of the video mentioned that the incident took place at the Bandar Kinrara exit to LDP Puchong.
In the video, a motorcycle is seen riding between the fast lane and slow lane at quite a fast pace. At this point, a silver Proton Saga on the fast lane had moved over to the slow lane, blocking the motorcycle from passing.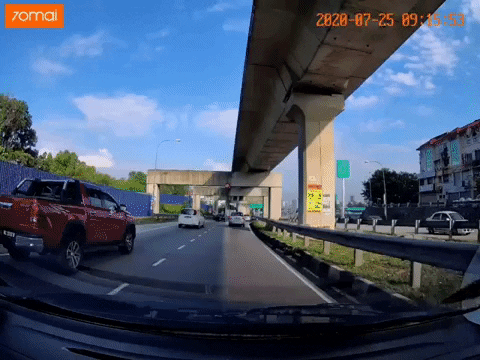 The motorcycle had no choice but to slow down and manoeuvre past the car, but when he did that, he tried to kick the car, probably out of annoyance or frustration that his path was blocked.
However, his actions did not end well for him as he immediately lost balance and was thrown off his bike. He slid on the ground while trying to stop himself from injuring himself as cars continued to zoom by.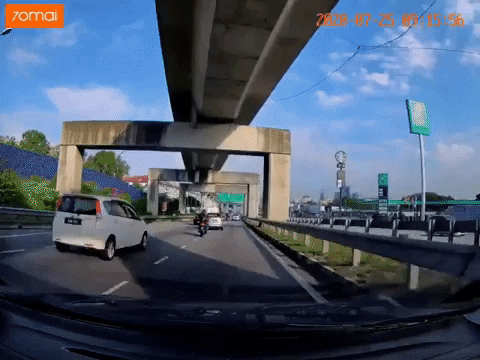 In the comments section, the owner of the video mentioned that the motorcyclist was fine and managed to stand up after the fall.
He wrote in his caption, "I don't know whose fault, let the police investigate or maybe my friends can tell me whose fault."
Here's the full video:
Well, what do you think? Did the car change lanes too fast or was the motorcyclist being a little too dramatic by kicking the car? Let us know in the comments section below!
Also read: Watch: Motorcyclist in Kelantan Slams Into Car While Making a Turn But Whose Fault Is It?