Watch: Motorcyclist Sees Woman On Kepong Street, Reverses & Snatches Her Necklace
A video being shared on Facebook shows how snatch thieves chance upon vulnerable women on the streets and decide to rob the victims' of their valuables with no planning needed.
In an incident that happened in Taman Bukit Maluri, Kepong on 4 July, dashcam footage shows a minor congestion in one of the streets. As the cars wait for the road to clear, a motorcycle appears and tries to maneuver its way through.
While passing through, the motorcyclist sees a woman coming out from one of the shops with her hands full. He then starts reversing as the woman walks out on the road. He quickly snatches what looks like her necklace and speeds off before anyone can stop him.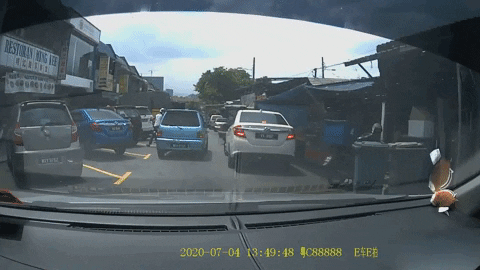 This serves as a reminder that we should always be alert and aware of our surroundings, especially when we're walking on the streets. It is highly advisable for women to avoid walking out in public areas if they are carrying a handbag or wearing valuables like necklaces or bracelets that could attract snatch thieves who just happen to be there.
Here's the full video:
We should never take our safety for granted and be on our guard at all times.
Also read: Watch: Motorcyclist in Kelantan Slams Into Car While Making a Turn But Whose Fault Is It?