Watch: M'sians Sing Negaraku Around Flag After Arriving Home Safely From Attacks in Indonesia
They say the most important thing in the sports world is good sportsmanship, not just from the fans but also the players. Hence, a very good example of bad sportsmanship would be calling the opponent's team and fans degrading terms and swearing at them.
An even better example of bad sportsmanship is to attack the opponent's team and fans after they've won the game, which is unfortunately what Indonesians did to Harimau Malaya and their fans after they won a game of football against them in Indonesia.
Now, Malaysians who have had to endure the ordeal are finally managing to escape the violence and return safely home. Facebook page Balrz.tv shared a video of a group of Malaysians who had just touched down in Malaysia after returning from Indonesia, and they decided to show their love for our country and their appreciation for finally reaching home safely. They waved the Malaysian flag proudly, while belting out Malaysian patriotic anthems.
Ekor Selamat Tiba Di KLIA Dari Jakarta

Posted by Balrz.tv on Friday, September 6, 2019
Balrz.tv wrote, "They're back home safe."
In the video, the group can be heard belting out our national anthem, 'Negaraku' before walking around and serenading the crowd with other patriotic songs.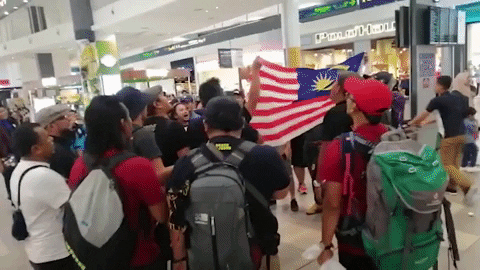 The emotional tribute to the country clearly caught the attention of the crowd as many joined in, turning the impromptu celebration into a nationalistic parade of epic proportions.
Such a beautiful sight following such horrendous circumstances.
Balrz.tv's posting has since garnered 264 shares.
No matter the challenges faced, Malaysians always pick ourselves up to be stronger.
Also read: Unexpected Marriage Proposal Sweetens Harimau Malaysia's Victory at the AFF Suzuki Cup