Watch: Myvi is Back With Full Force, Drives Through Kota Tinggi Flood Like It's No Big Deal!
It's monsoon season in several parts of Malaysia and there's bound to be a Perodua Myvi somewhere that will simply not be ruled by the conditions of the road.
True enough, someone managed to capture a Myvi braving through the flood like it was no big deal, but are we really surprised that the hatchback car can pull off such a feat that other cars probably can't?
In a video posted on the Facebook page,  LUMUT, Perak, a whole street in Kota Tinggi and its surroundings can be seen covered in water which, of course, did not stop a white Myvi from driving through with no problem at all even though the flood looked deep enough to sweep the car away.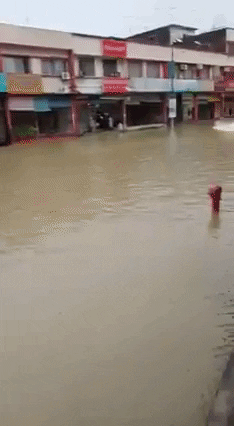 Netizens were unsurprised with such a scene and hailed Myvi as the 'King of the Road' while others joked that Perodua is now making boats.
"The power of MYVI . Always king! 👑"
"Myvi king of road"
"Myvi all can"
"Never disappoints!!!"
"no road.. no problem.. can swim.."
Here's the full video:
According to Harian Metro, a total of 13 main roads in Kota Tinggi, Johor have been closed off for all vehicles due to flooding that started 9am on 4 January.
JKR Johor said in a statement that the affected routes include:
Jalan Kota Tinggi-Mersing near the fort
Jalan Kota Tinggi-Mersing Batu 16
Jalan Kota Tinggi-Mersing at RISDA
Jalan Kota Tinggi-Kluang at Arcade Mara
Jalan Lok Heng-Mawai-Sungai Mas at Semalok River Bridge
Jalan Tai Hong
Jalan Tai Hong near the village.
Jalan Tun Sri Lanang
Jalan Semanggar near the bridge
Jalan Mawai Lama
Jalan Kampung Kelantan-Kampung Panti
Two areas in Jalan Sungai Telor.
Also read: "Do I look very shabby?" M'sian Guy Wonders If He Was Rejected By Girl Because He Drives A Myvi