Watch: Woman Caught Tossing 2 Bags Of Rubbish Over Kelantan Bridge, Netizens Outraged
In a world where most of us strive to keep the environment clean, there are some out there who just can't care less about it.
In a video shared on Facebook, a woman was seen discarding two bags of rubbish over a bridge whilst in slow-moving traffic in Tanah Merah, Kelantan.
The video that has been making its rounds on social media shows a silver Perodua Bezza turning on its left indicator and inching its way closer towards the left.
A woman can be seen with her hand out of the car window, trying to swing a bag of rubbish over the bridge. She then sticks out almost half her body out of the car and tosses another bag over the bridge before retracting back in. The car then aligns back with traffic and continues driving.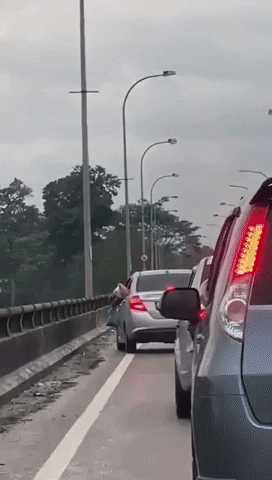 Netizens were appalled at such a sight with many saying that it was a very shameful thing to do.
"Why don't you wait until you arrive at home to throw it away or stop at the gas station to throw it in the trash can?"
"Please give her a summons so that no one has the courage to throw away the garbage as if Malaysia has no trash can."
"If everyone is like this, no wonder it's flooded, no wonder there's no awareness at all, please repent."
"Ask the local authorities to take action. The car number plate is available. This is one of the contributors to river pollution."
Here's the full video:
We can do better than this, people! Discard your trash properly in designated areas and do your best to keep our roads and rivers clean.
Also read: Watch: Myvi is Back With Full Force, Drives Through Kota Tinggi Flood Like It's No Big Deal!